ABOUT THE STUDY 
"REPRESENTATION OF WOMEN IN FILM AND MEDIA: THE IMPACT ON VIEWERS THROUGH THEIR SELF-IDENTITY, SELF-WORTH, AND GENDER ROLE EXPECTATIONS" is an MFA thesis research study focusing on how audience members interpret protagonists of different genders.

For the study, filmmaker and MFA candidate Gemma Eva Cunial produced two identical short films: one with a female lead and a male. The story follows a playwright in the 1950s who writes the perfect script but gets rejected by big-time producers. The writer must find a way to overcome the rejection by producing her play on her own in a small-but-mighty way. This study aims to show that most struggles a protagonist faces in a story are usually a human issue rather than a gendered issue. 

The study featured participants from Ontario, Quebec, British Columbia, and Michigan. Participants identified as white or Caucasian, black or African American, Asian or Asian American, or another race; 53 percent of participants identified as female, while 47 percent identified as male. The participants' ages ranged from Generation Z to Silent Generation. 
Participants were divided by generation and split in half to either view Film A or Film B; each group was not aware that another version existed.  Participants were asked to watch the film, complete a short answer survey, and participate in a focus group to discuss the film. Viewers were not aware of the objective of the study. The researchers ask the participants questions such as "What is the story about?" "What adjectives would you use to describe the main character?" and "Why do you think the writer got rejected in the story?"

Cunial hypothesized that the viewers' opinions of the story would differ depending on the main ch

aracter's gender. Also, older generations would assume gender had a part to play in the female

protagonist's rejection.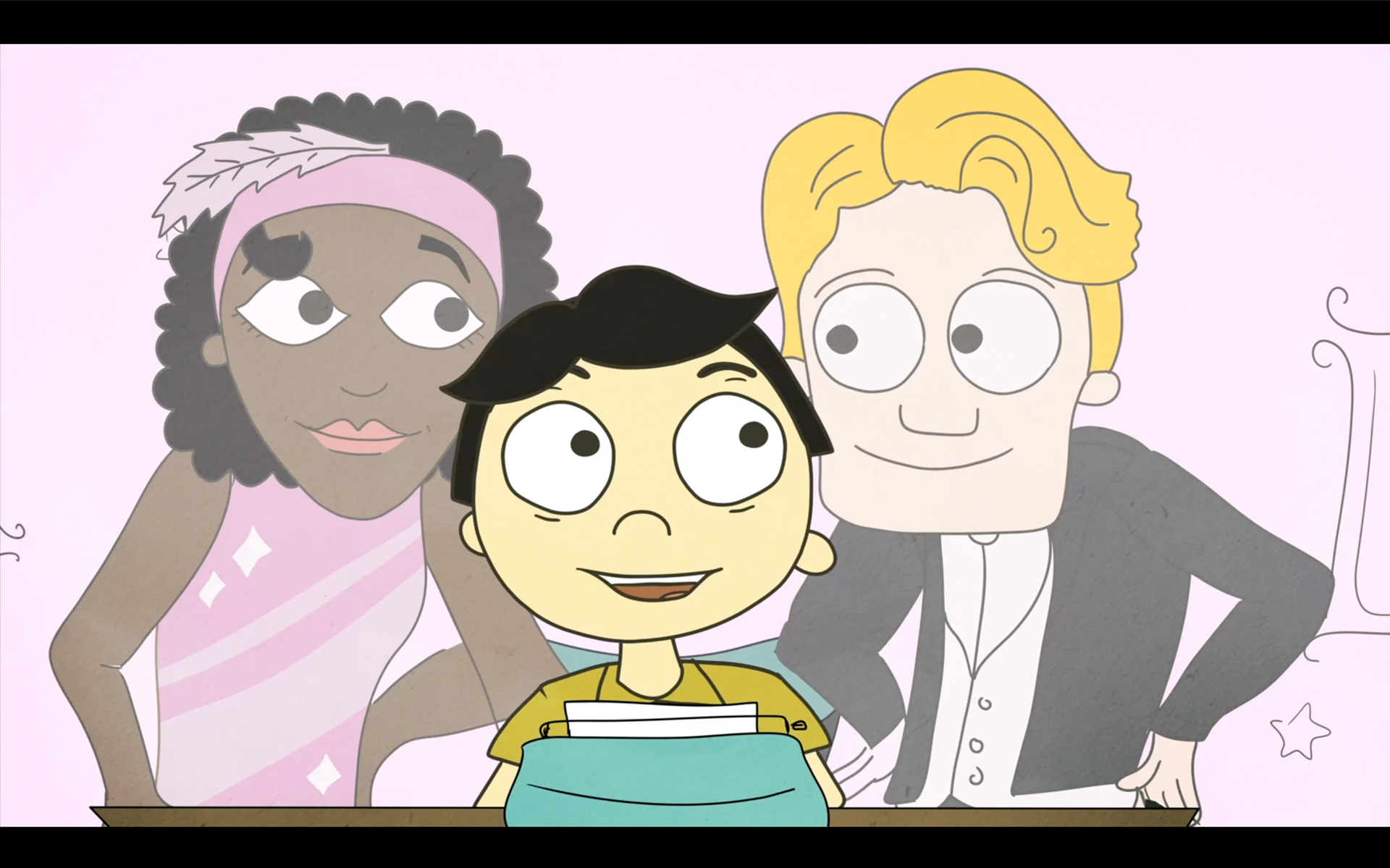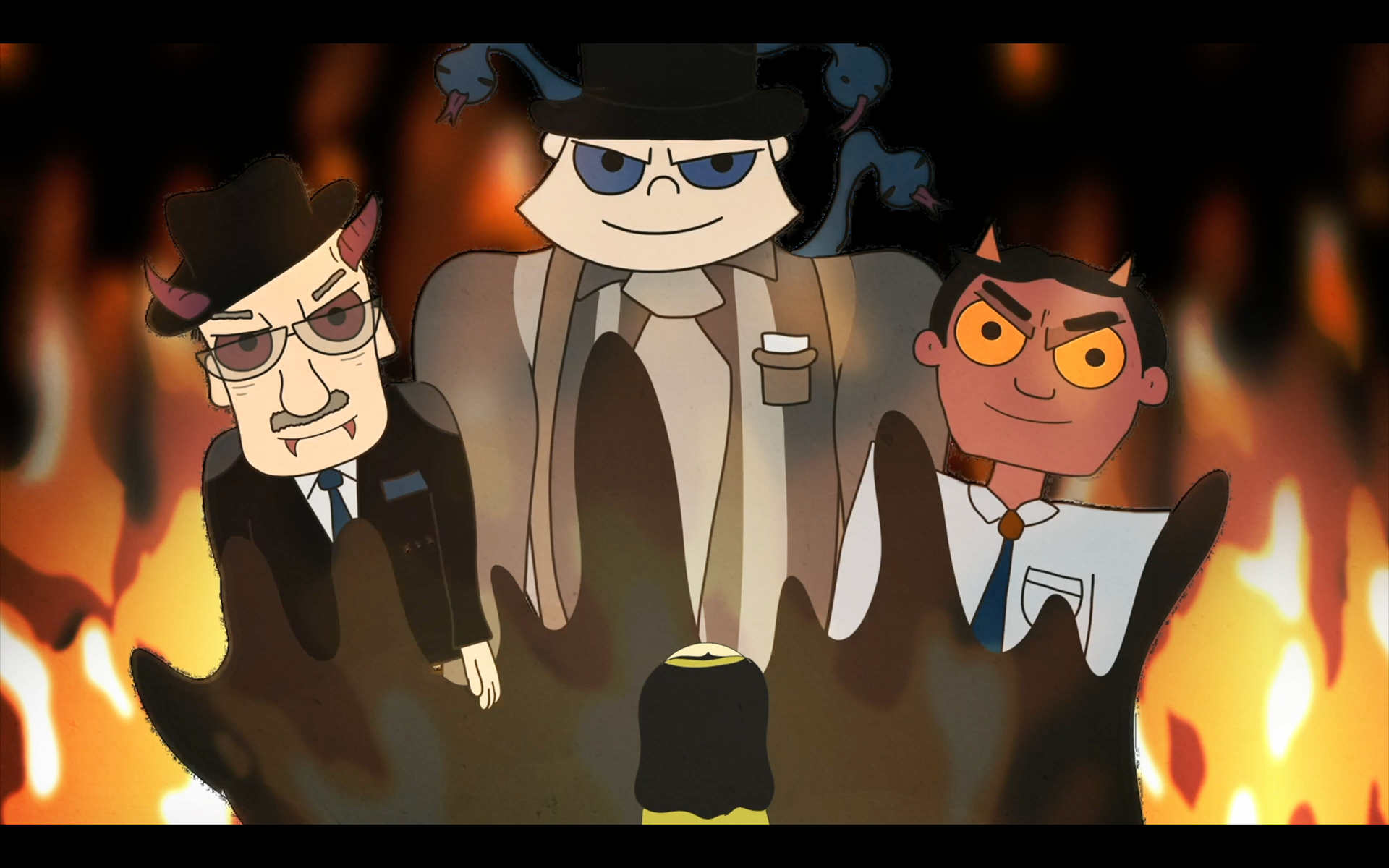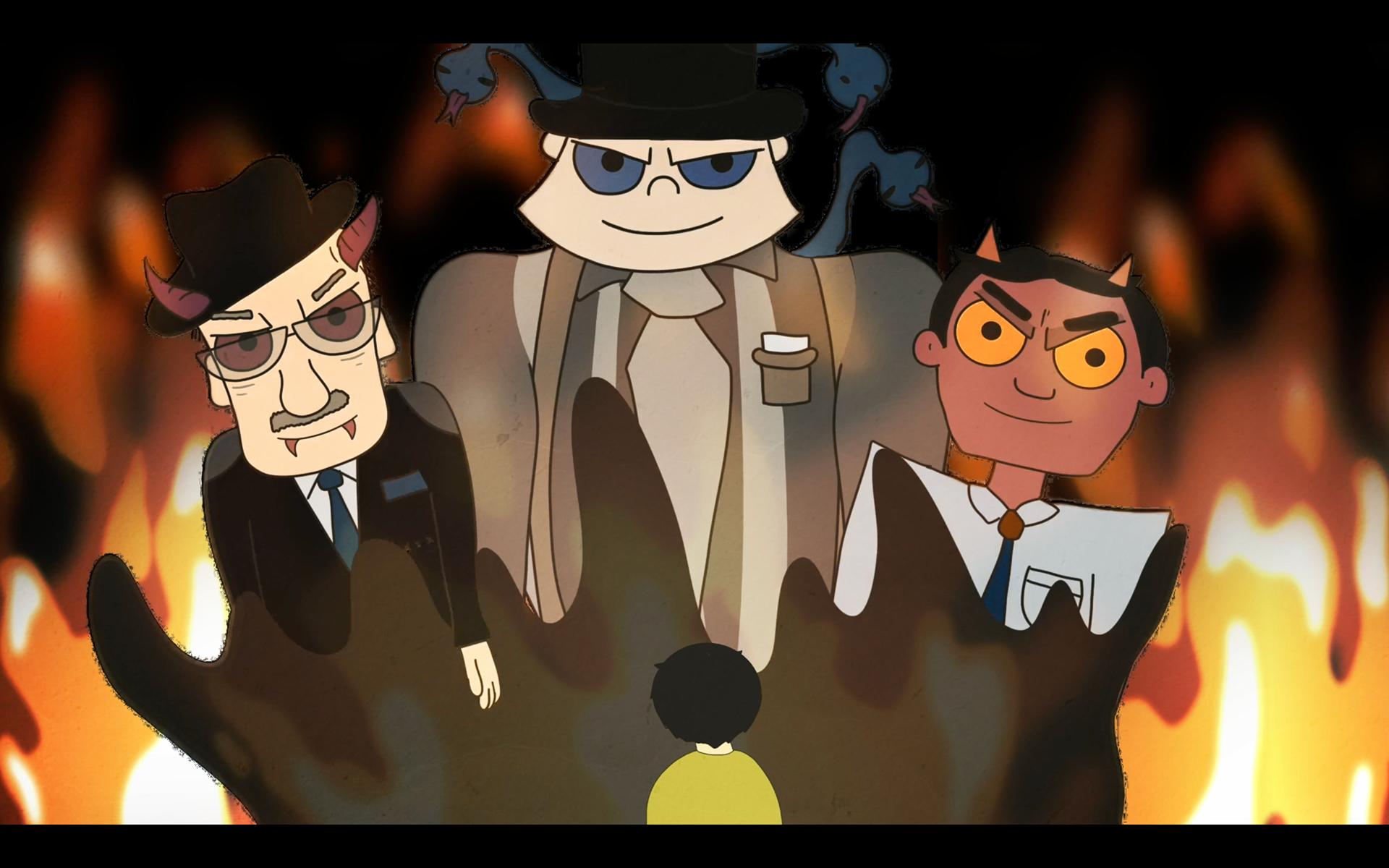 RESEARCH RESULTS
The research study

offered interesting results. The study indicated that participants did interpret the two films differently. Based on surveys and focus groups, Film B viewers cumulatively concluded there were THREE reasons for the rejection. The most common answer was that the writer's story was unoriginal. Other reasons included combinations of nepotism and mean-spirited producers. During a foc

us group, one participant noted that the story received the rejection, not the writer himsel
f.  
Based on Film A's surveys and focus groups, participants concluded there were EIGHT reasons why the rejection took place. Participants suggested it was the fault of the mean-spirited producers, the race of the writer's heroine character, the protagonist's age, lack of confidence, "Weinstein-ism" (knowing the price of fame through favours, as described by a participant), and nepotism. The most common reason for rejection was a story that lacked originality and the protagonist's gender.
When looking deeper into Film A's survey results, 12 percent of Gen Z participants mentioned that the writer's rejection was due to gender. Interestingly, 40 percent of millennials, 43 percent of Gen X, and 60 percent of baby boomer and silent generation participants stated her gender was a possibility for her failure. In comparison, 30 percent of Gen Z, 50 percent of millennials, 60 percent of Gen X, and 75 percent of baby boomer and silent generation viewers who watched Film B claimed the writer's reason for rejection was the story's lack of originality. None of the Film B participants mention anything about his physical attributes, let alone his gender.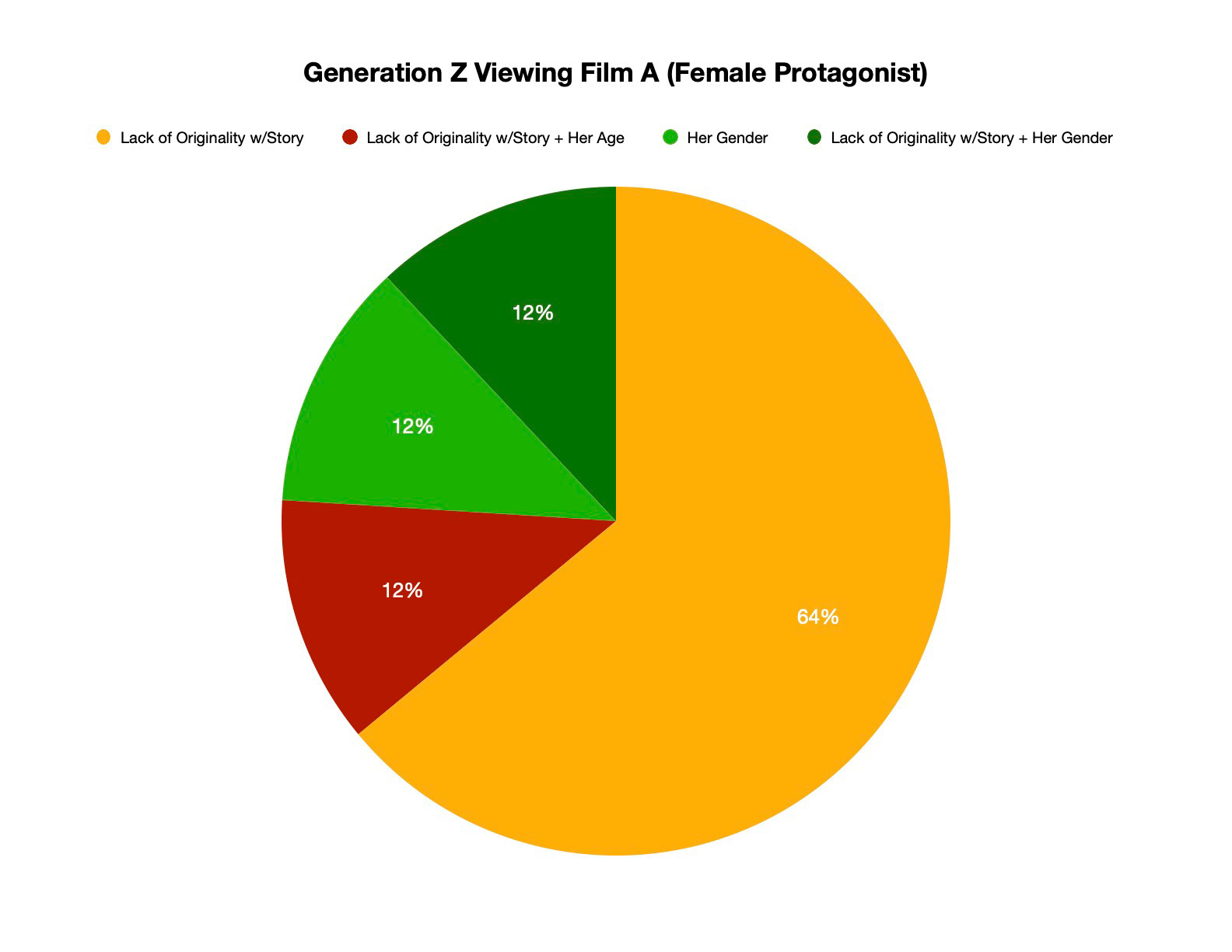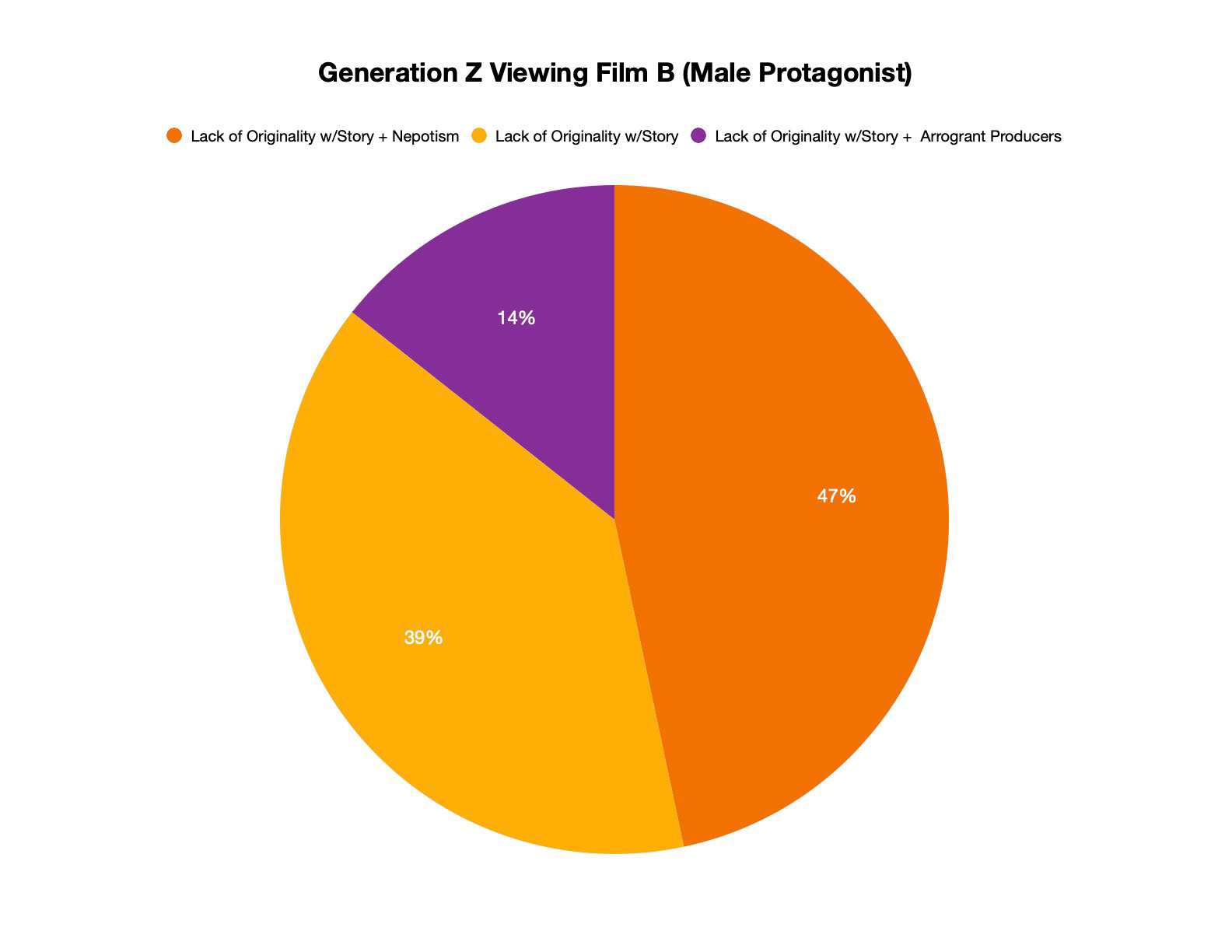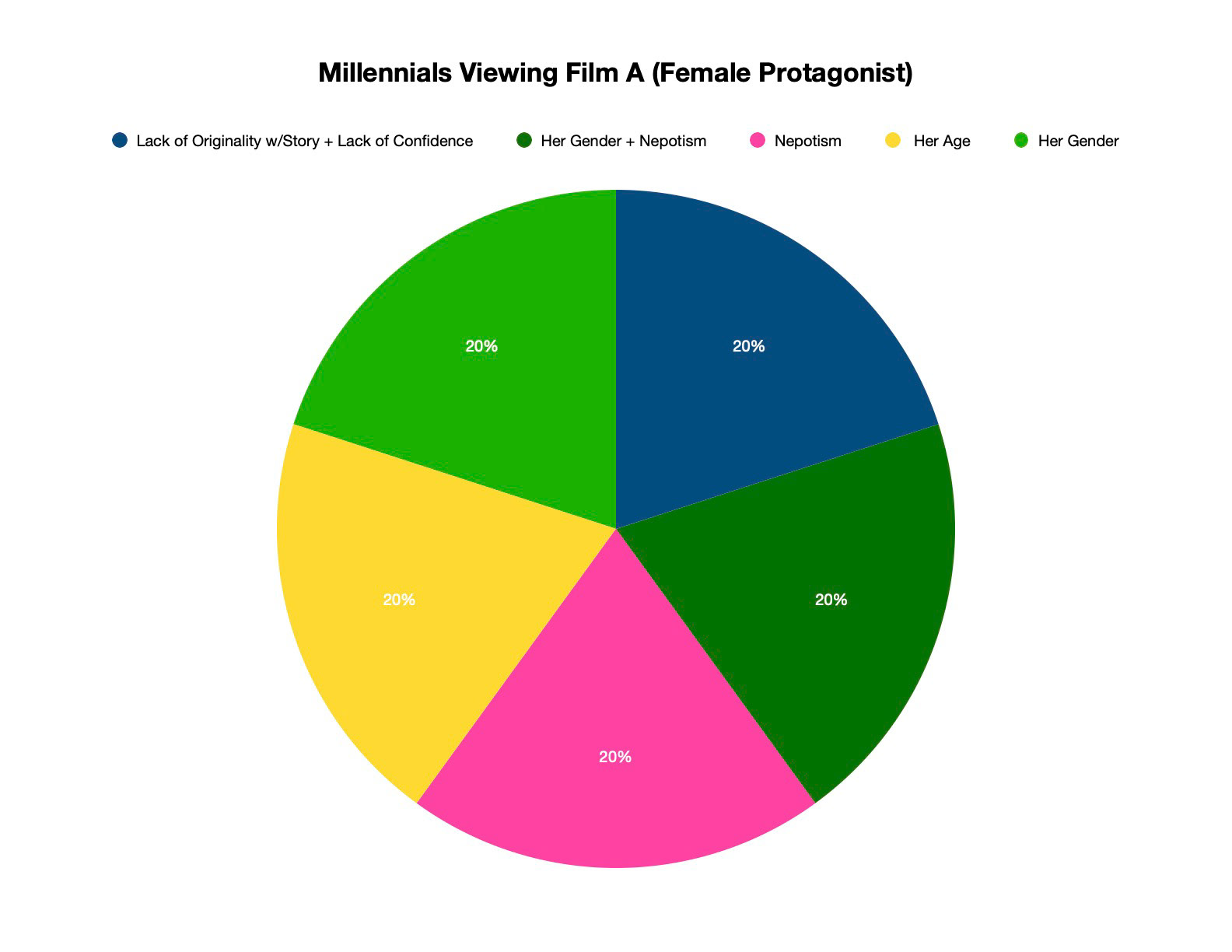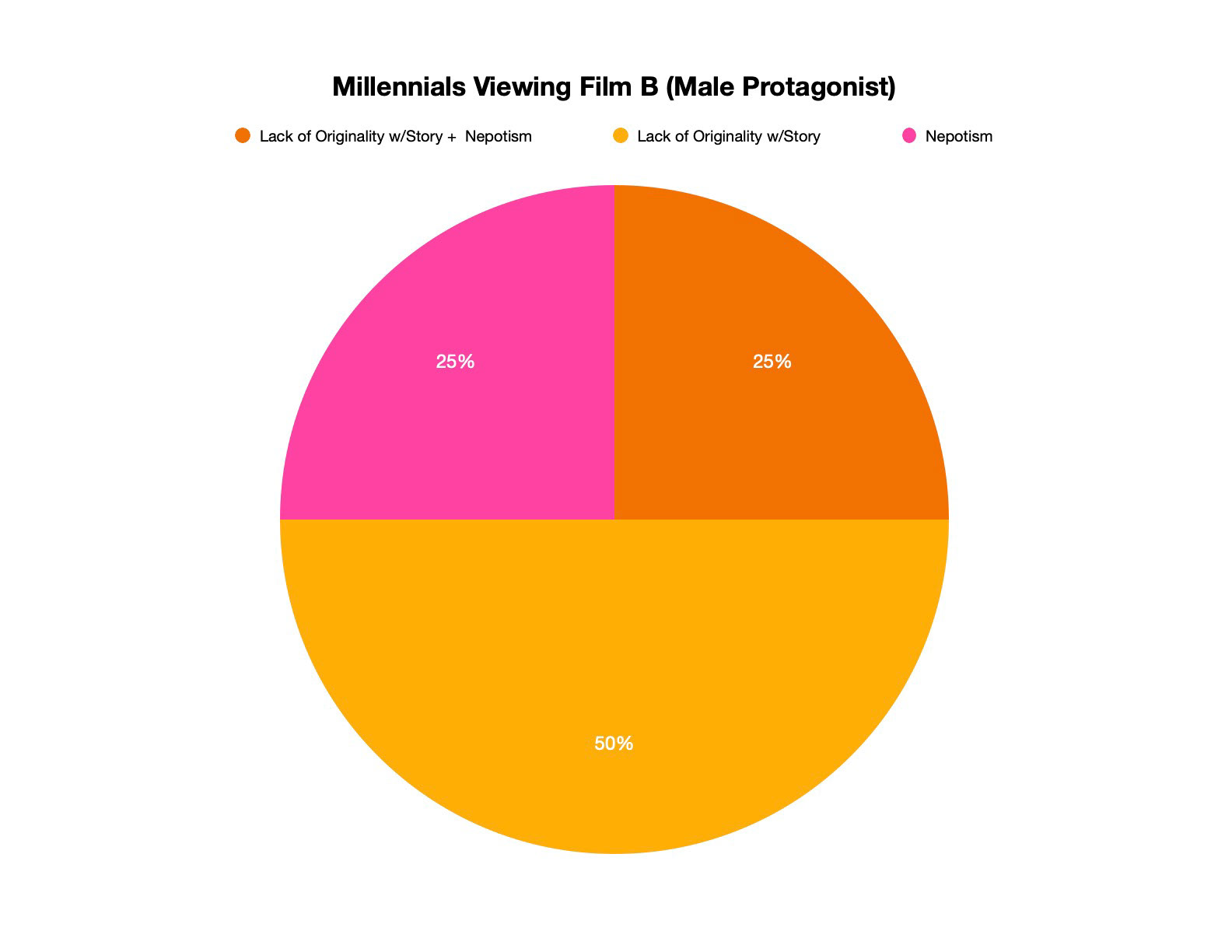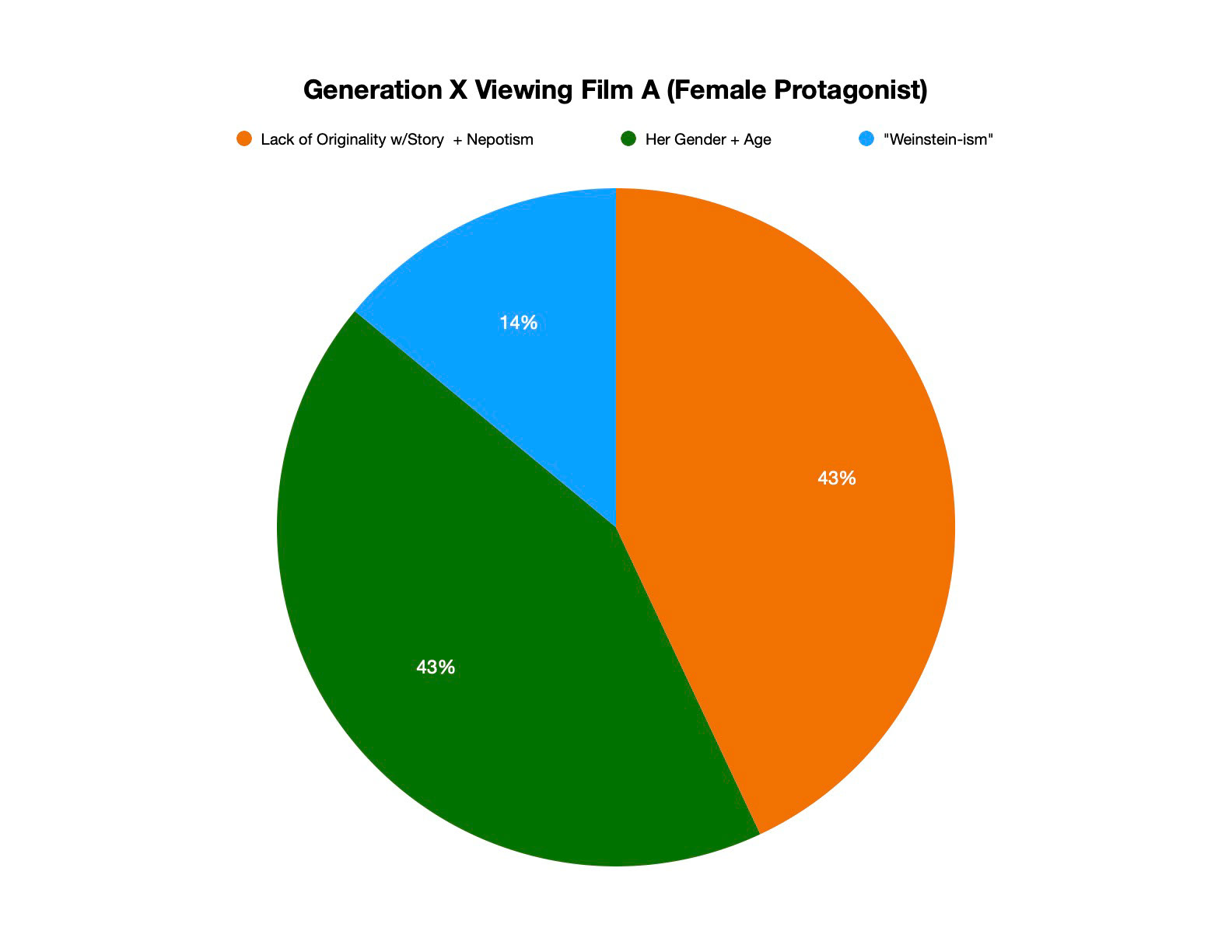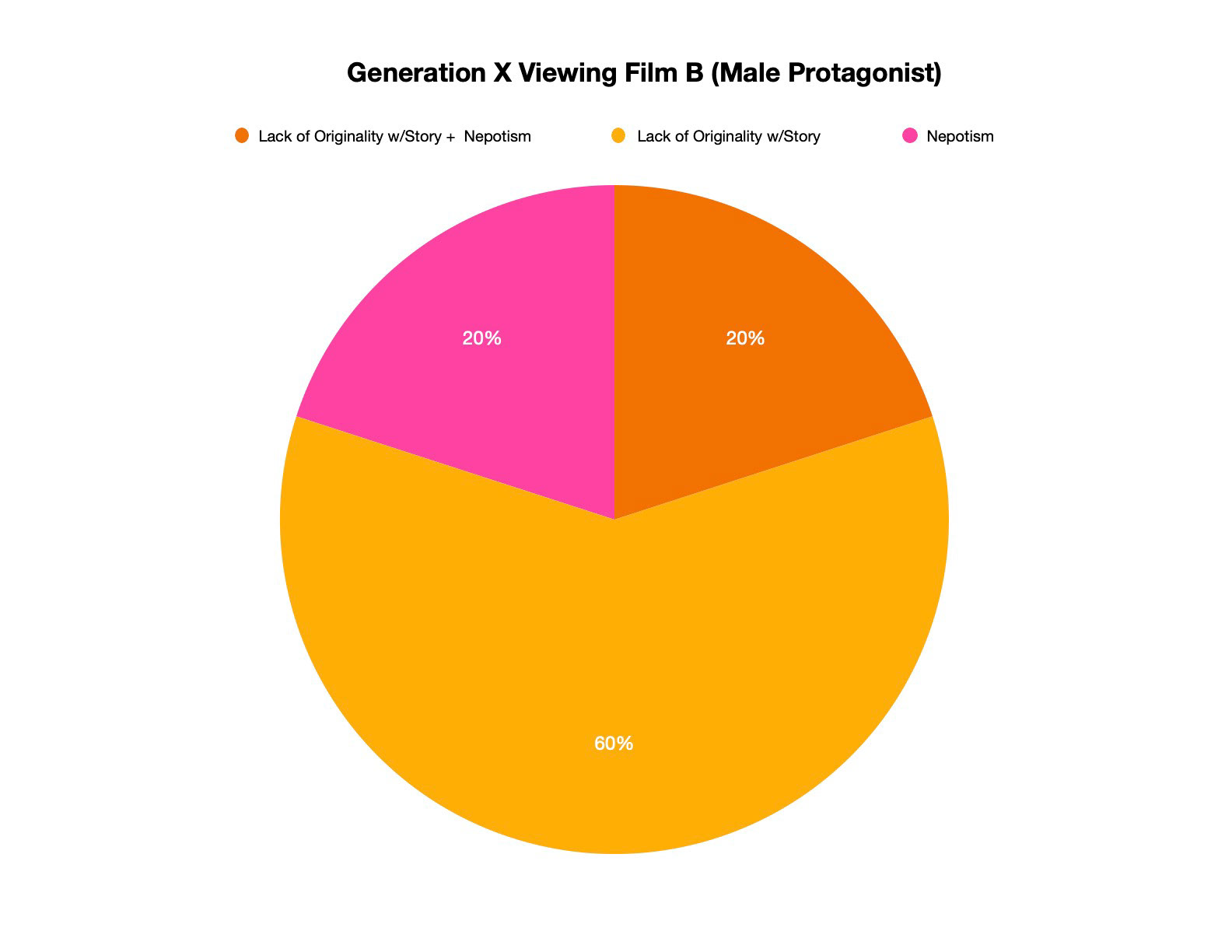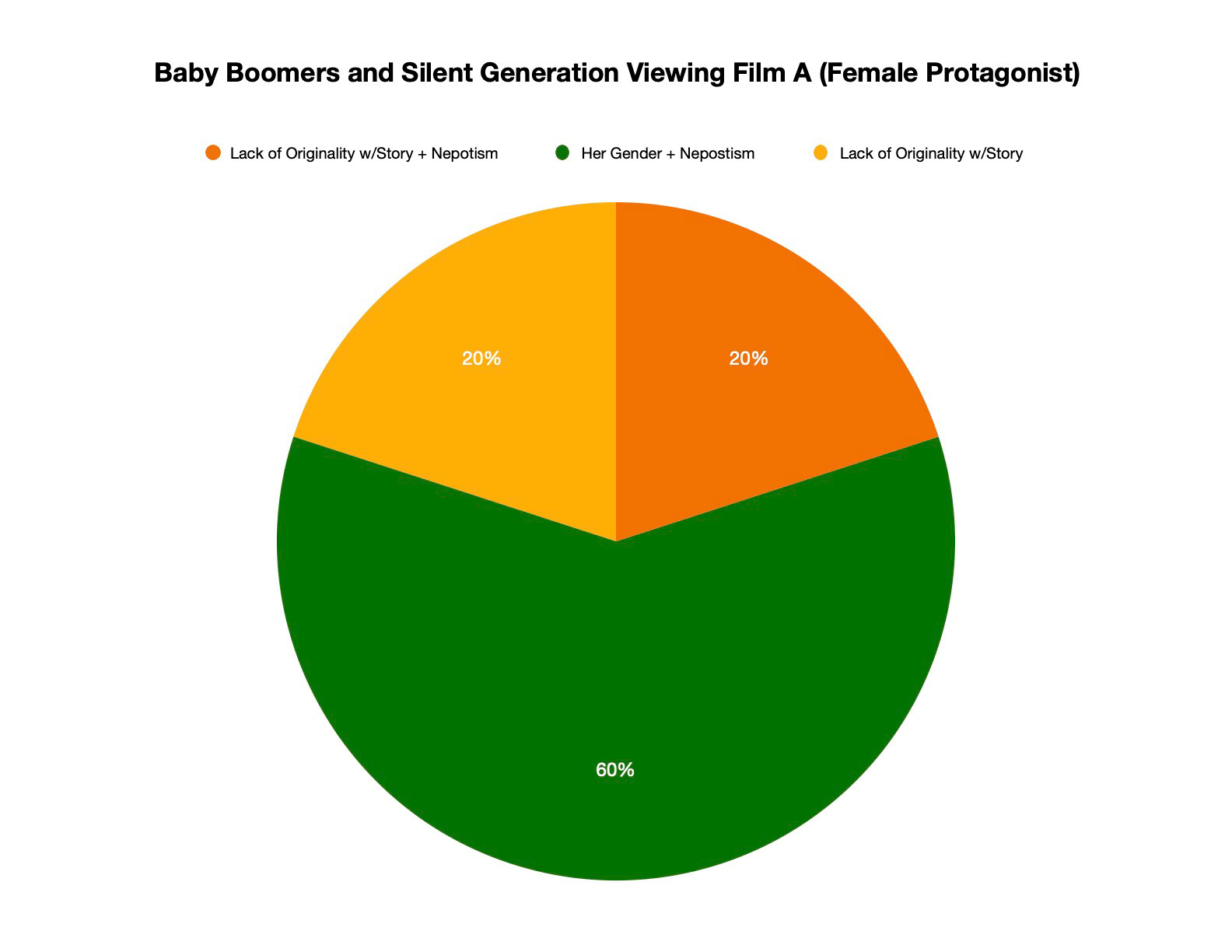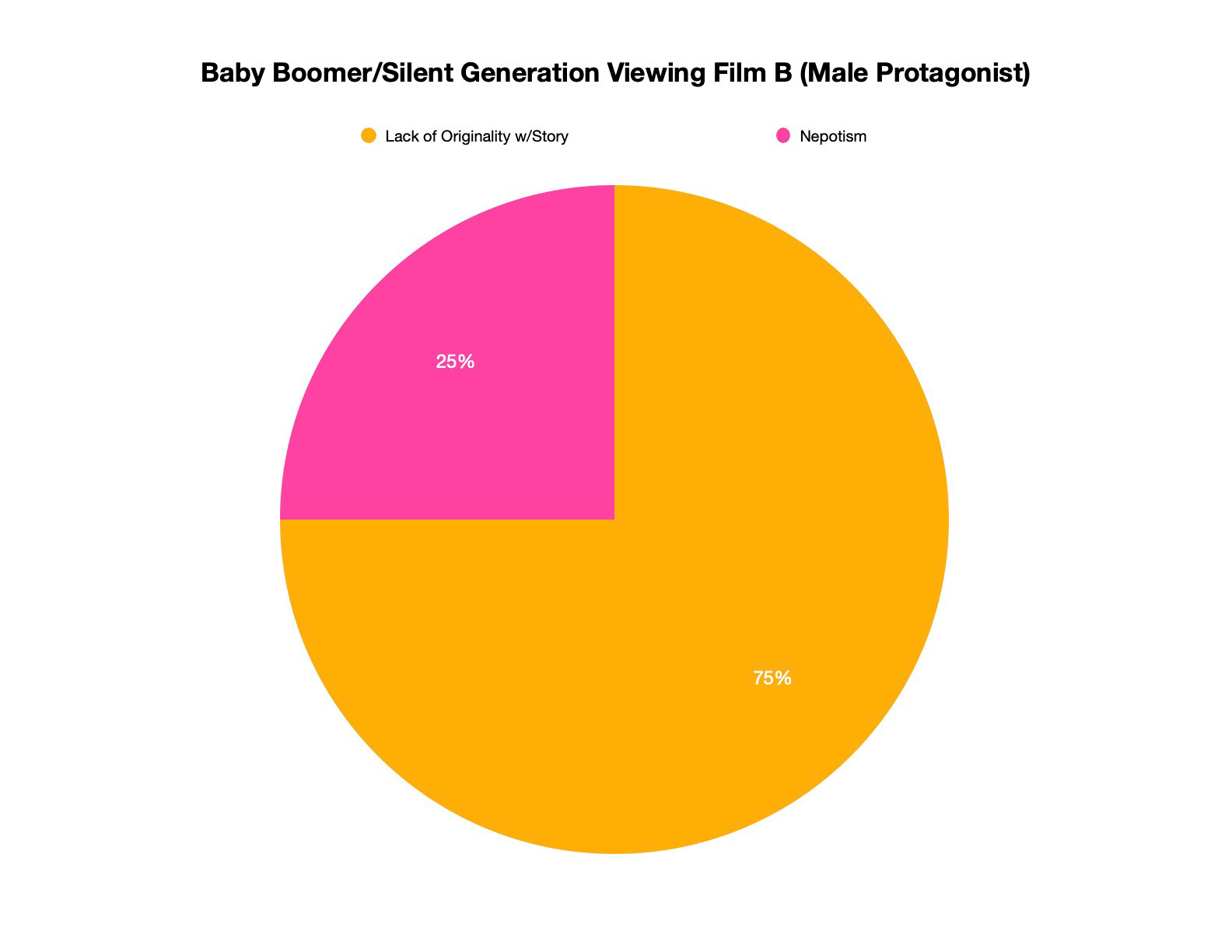 When participants were asked to describe their assigned protagonist using adjectives, both protagonists shared some common words. The most common adjectives used to describe both characters were "passionate," "hopeful," "determined," and "optimistic." The female protagonist was also said to be "brave," "strong," "sweet," and "cute," while the male protagonist was described as "innocent," "a believer," and "a dreamer." The male protagonist seemed romantic, timid, sensitive, and followed his heart, while the female protagonist is described as self-motivated, smart, and industrious, aiming to break the status quo. Despite the films being identical (except for the protagonists' gender), participants perceived the character's struggle differently. This would suggest that gender played a role in the viewers' interpretation of the film. The adjectives chosen for the male protagonist indicate that he is in over his head solely due to his age and lack of experience; he is a young man with a dream. The female protagonist is also perceived as having a lack of experience, yet she is described as "courageous" instead of a "dreamer." This implies that the female protagonist had more of an obstacle to overcome than the male; it was heroic for a young woman to face three brutish male producers.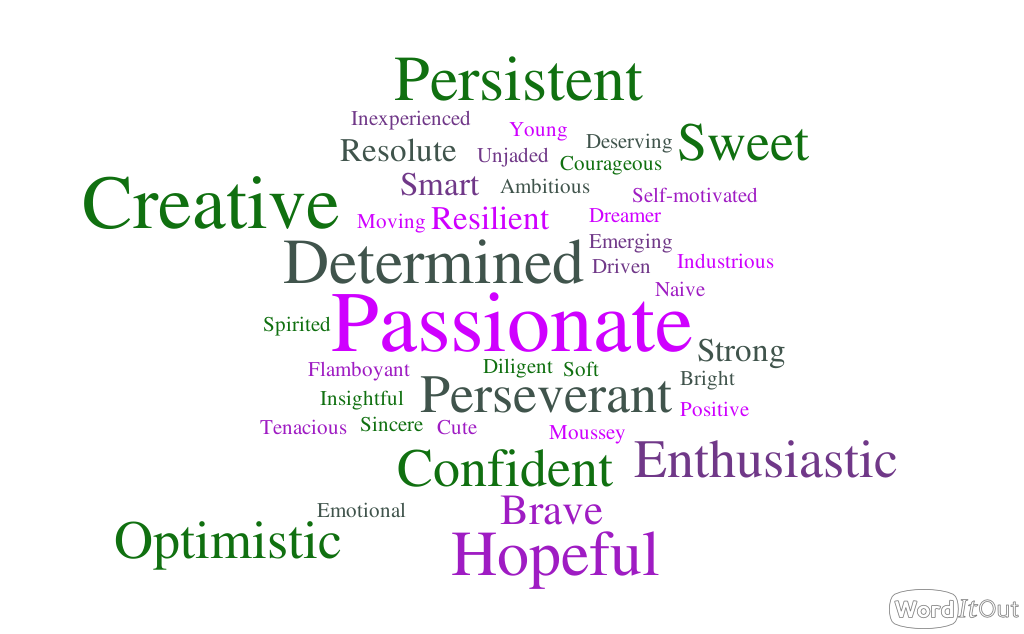 *The larger the word, the more often it was used by participants 
We discovered that some audience members, mostly older generations, are more aware to the barriers faced by female creators. It appears that younger generations look past the protagonist's gender and focus on other reasons for rejection. 64 percent of Gen Z participants who viewed Film A suggested the writer's unoriginal script as the reason for rejection. Meanwhile, 100 percent of Gen Z participants who viewed Film B indicated that the rejection was solely based on the protagonist's cliché story. In comparison, 60 percent of baby boomer and silent generation viewers who watched Film A acknowledged the obstacles the writer may have faced due to her gender. It is still interesting to see how their interpretations differed from those who viewed Film B. The participants who watched the male protagonist never mention his gender as a possible reason for rejection because of our fundamental understanding of bias in society. Men not receiving a job or opportunity solely based on their gender, especially during the setting in the 1950s, was unheard of. According to participants, the male protagonist is a young, passionate-yet-inexperienced writer who wrote a generic story and possibly fell victim to nepotism; the female protagonist was interpreted as a perseverant-yet-soft young woman. Participants alluded that when a young woman tries to pursue her passion, she is brave, but when a man tries to, he is unrealistic.
This data leads to some interesting questions: are younger generations overlooking women's obstacles based on gender? Does the greater awareness of gender bias exhibited by older generations reflect a cultural concern connected to their generation, or is it front of mind as a result of lived experience, and therefore not a feature of a particular generation's societal conditioning but a feature of understanding that comes from past experience? If younger generations look past the glass ceiling, will it undermine women and counteract the feminist movement? Even during the fourth wave of feminism, women behind the camera are still fighting for recognition, even with gender parity enforcement in place. Yet, globally over the past dozen years, 93.4 percent of the top film directors are male.

1
Though
Big Little Show
's lyrics and story are identical, the film was interpreted in different ways. When I wrote the film, I made a conscious effort to make the reason for the writer's rejection ambiguous, there is no correct answer as to why the writer was rejected. I did this to provoke the viewer to come to their own conclusions about the rejection and see if they had any biases. Rejection should be a universal experience that is relatable to everyone. However, my findings suggest that some viewers see possibilities for rejection differently due to gender expectations.
1. Women's Media Centre,
The Status of Women in the U.S. Media
2019 (New York, NY., 2019), 131